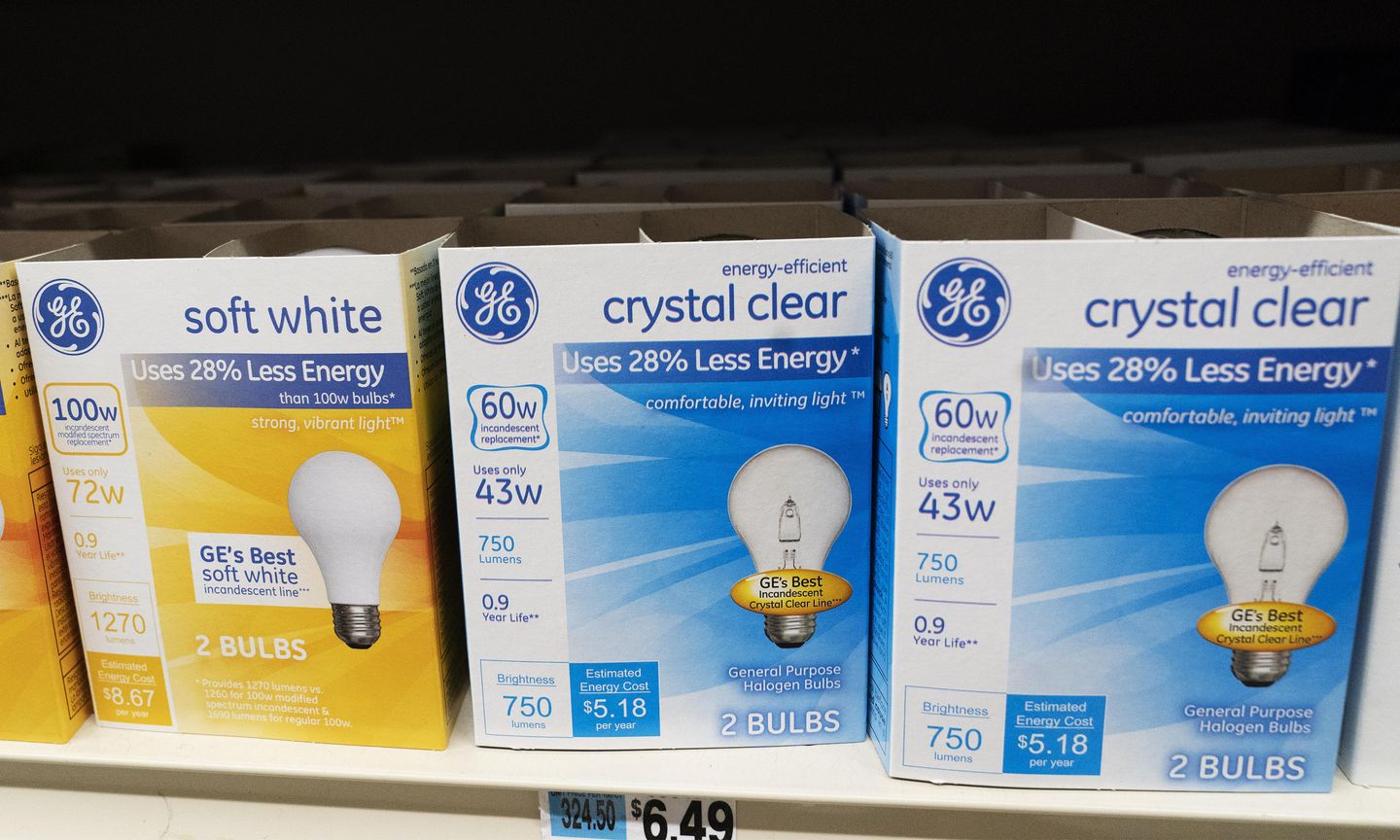 The Biden administration proposed a new rule Monday that would phase out traditional incandescent lightbulbs and replace them with more efficient LEDs.
The proposal from the Department of Energy would more than double the minimum lightbulb efficiency level, moving it from the current standard of 45 lumens per watt to more than 120 lumens per watt.
It is the latest effort by the Biden administration to wean consumers off incandescent lightbulbs. Earlier this year, the Energy Department banned the sale of lightbulbs that produce 45 lumens per watt and raised energy efficiency standards for general service lamps.
The Biden administration has argued that the new energy efficiency regulations will cut down electricity use and curb greenhouse gas emissions. It estimates that phasing out incandescent lightbulbs will cut 131 metric tons of carbon dioxide and 903,000 tons of methane over the next 30 years. That would be equal to the electricity used by 29 million homes per year.
In a statement, the Energy Department estimates that the proposal will save about $20 billion in collective consumer costs. It also estimated that the LEDs could save the average family at least $100 annually through lower energy bills. 
The White House itself acknowledges that the rule proposal will cost manufacturers more than $400 million in annual costs. 
"In order to bring products into compliance with new and amended standards, it is estimated that the industry would incur total conversion costs of $407 million," the draft rule said.
Steve Milloy, a member of former President Donald Trump's transition team and critic of the climate change movement, said LEDs don't work as well as traditional lightbulbs and are more expensive. He also questioned the need for the rule since most manufacturers are making fewer incandescent bulbs.
"The real harm is consumer choice because sometimes you just want an incandescent lightbulb. Not everyone likes LEDs, halogens, CFLs and others because they are more expensive and don't work as well," he said. "There is a lot of downside and no upside to this rule because industries and the government will force consumers to pay more."
Incandescent bulbs, which are glass orbs with glowing wire centers, have been increasingly replaced by energy-efficient alternatives in recent years. More climate-friendly alternatives include LEDs, which look like traditional lightbulbs but use one-fifth of the energy.
Nearly 50% of U.S. homes said they use LEDs for all indoor lighting, according to the 2020 Residential Energy Consumption Survey. That is a substantial increase from the same survey in 2015, in which just 4% of households said they used LEDs for most of their indoor light use.
A move by Mr. Trump has complicated the Biden administration's efforts to phase out old-fashioned lightbulbs. In 2019, Mr. Trump rolled back the requirements for energy-efficient bulbs, arguing that the standards were not economically justified.
Industry groups supporting the decision said requiring consumers to use LEDs would cost jobs and hurt consumers' ability to choose.
The Biden administration has vowed to achieve a net-zero emissions electricity section by 2030 and has pledged to complete 100 energy-efficiency actions by the end of this year.
The new proposal will become effective 60 days after publication in the Federal Register.