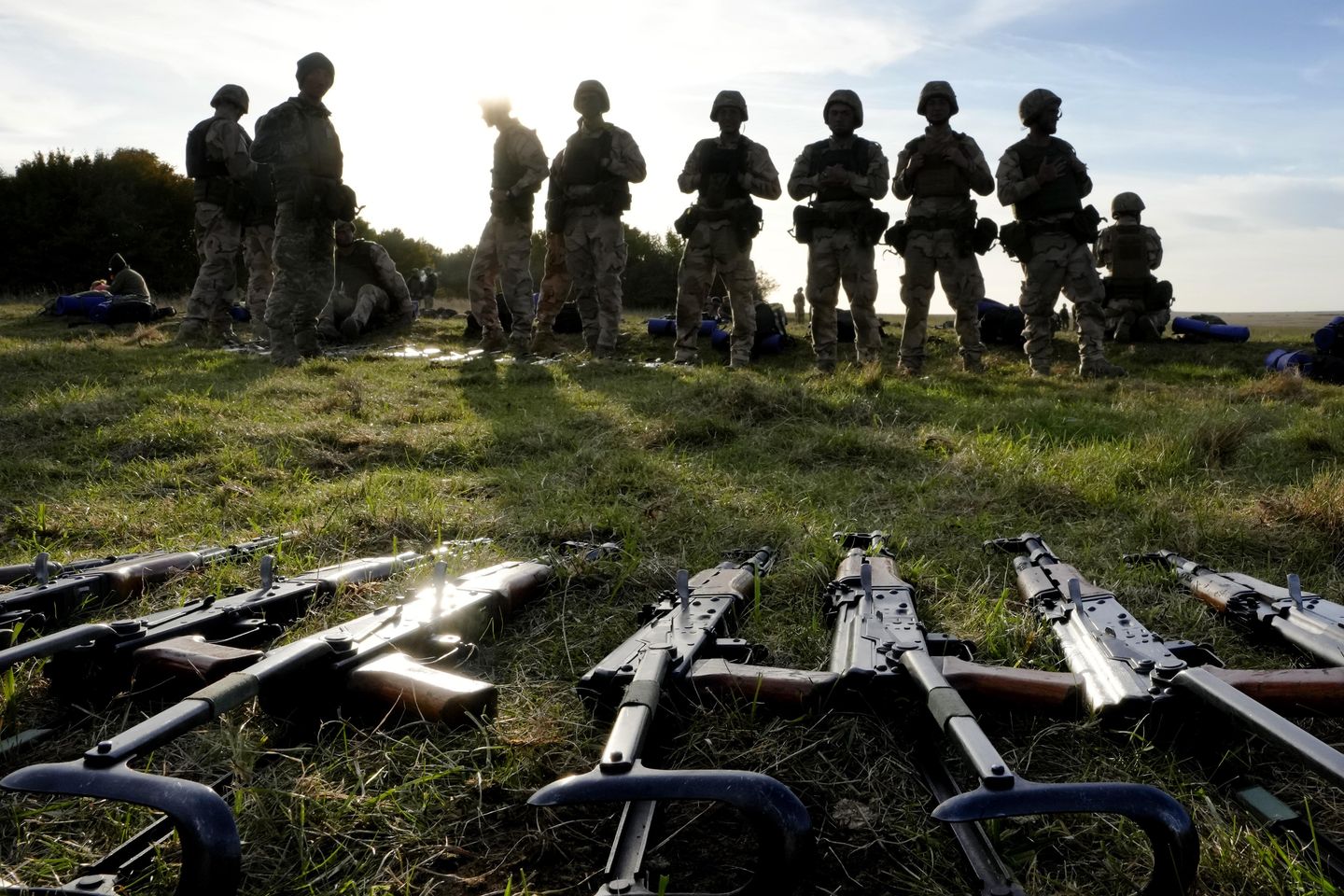 After a year spent talking on the phone or through video conferences, the Pentagon's top general on Tuesday had his first face-to-face meeting with his Ukrainian counterpart at an undisclosed site in Poland near the border with Ukraine.
Gen. Mark A. Milley, chairman of the Joint Chiefs of Staff, spent a couple of hours talking with Gen. Valery Zaluzhny, the top officer in Ukraine's armed forces. It marked the first in-person meeting between the two senior military leaders since Russia launched its invasion nearly 11 months ago.
"I extended my gratitude to [him] for the unwavering support and assistance provided by the [U.S.] and allies to Ukraine," Gen. Zaluzhny later posted on his Telegram social media page. "I outlined the urgent needs of the Armed Forces of Ukraine — which will accelerate our victory."
Gen. Milley's spokesman, Col. Dave Butler, said the two men assessed the state of the fighting and Gen. Milley "reaffirmed unwavering support for Ukraine's sovereignty and territorial integrity."
According to media reports, the impromptu meeting was arranged because Gen. Zaluzhny won't be able to attend a meeting this week of senior NATO officials in Brussels. Kyiv has been pressing the Biden administration and some reluctant Western European capitals for more military aid to take on its larger, more powerful neighbor.
Dutch Prime Minister Mark Rutte, meeting with President Biden in the Oval Office on Tuesday, praised Mr. Biden for rallying Western nations in support of Ukraine and confirmed the Netherlands would join Germany and the U.S. in sending a Patriot missile defense system to Kyiv. Ukraine has pressed for the sophisticated missile defense system in the face of a sustained Russian bombing campaign in recent weeks targeting major cities and the country's energy infrastructure.
---
SEE ALSO: South Africa will hold naval drills next month with Russia, China
---
British officials said they will send a squadron of 14 Challenger 2 tanks to Ukraine in the coming weeks. They will begin training the Ukrainian armed forces to use the tanks in the "coming days."
Britain and other European powers are stepping up the pressure on Germany to authorize the transfer of Berlin's Leopard 2 tanks to Ukraine, something the Ukrainian military sees as key for the ground battles now underway against entrenched Russian lines in eastern and southern Ukraine. A group of more than four dozen defense ministers will be gathering in Ramstein, Germany, on Thursday for a key meeting on future security support for Kyiv.
On Monday, Gen. Milley visited the Army's sprawling Grafenwoehr base in Germany where a battalion of Ukrainian troops will spend the next month learning how to operate in close coordination with other forces to battle invading Russians and ultimately launch counterattacks.
"This is not a run-of-the-mill rotation," Gen. Milley said while meeting with Ukrainian commanders. "This is one of those moments in time where if you want to make a difference, this is it."
Some limited training for Ukrainians began last year at Grafenwoehr, but it was primarily focused on learning how to use weapons being provided by Washington, such as artillery. Many of the troops arrived at the training range in Grafenwoehr straight from the front lines in Ukraine.
The combined arms training will include classroom instructions and small-scale exercises in the field. The five-week course will culminate with a complex training mission bringing together the entire battalion and headquarters element, Pentagon officials said.
The Kremlin has accused Washington and its NATO allies of using Kyiv to wage a proxy war against Moscow. President Vladimir Putin recently named Gen. Milley's Russian counterpart, Gen. Valery Gerasimov, as the top on-scene commander for the fighting inside Ukraine.
The renewed military support for Ukraine comes as analysts say Russia appears to be digging in for a drawn-out conflict with its smaller neighbor. Ukrainian forces continue to face fierce fighting in the eastern Donetsk province where Russia has claimed control over the salt-mining town of Soledar. 
Over the weekend, Russia launched a barrage of missiles in several locations, including Kyiv. Ukrainian officials said a total of 45 civilians were killed when a Russian missile struck an apartment building in the southeastern city of Dnipro.
• This article was based in part on wire service reports.