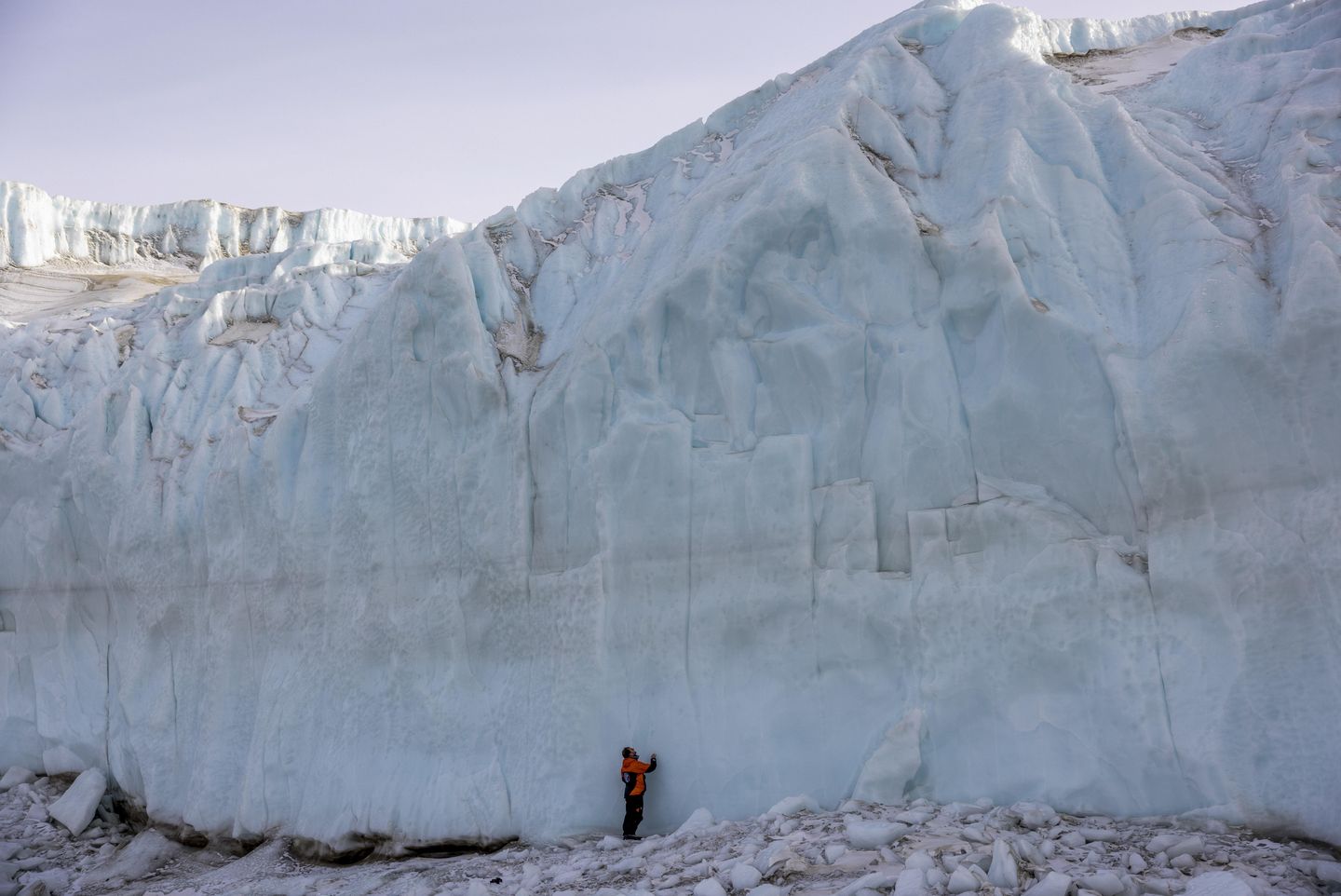 It is threatening Taiwan, challenging its neighbors in the South China Sea, clashing with India high in the Himalayas and seeking to disrupt the U.S.-led international order everywhere from sub-Saharan Africa and South America to outer space and cyberspace. But now China is opening up yet another front in the quest to be the globe's rising superpower: the South Pole.
Beijing's economic clout and growing military strength has already led it to assert a role as a "near-Arctic" state, seeking a security and economic role as a warming globe makes Arctic resources and trade routes more accessible.
And now China also is flexing its polar muscles, on the other end of the world, expanding its footprint in Antarctica as part of its ambitions to be a "polar great power" by the end of the decade.
"China has an interest in being seen as an important player in all kinds of regions," said Jacob Stokes, a senior fellow with the Indo-Pacific Security Project at the Washington-based Center for a New American Security (CNAS). "Its ability to operate in [the polar regions] is 'world-class' if not 'world-leading.'"
China's National Security Law has created the legal framework for Beijing to exercise its claims. China is increasing its presence in Antarctica through scientific projects, commercial ventures and infrastructure investments.
Chinese military leaders describe the polar regions as one of the world's new "strategic frontiers" and a zone for future military competition with the West, analysts with the Brookings Institution said.
Although seven countries — Argentina, Australia, Chile, France, New Zealand, Norway and the United Kingdom — have made territorial claims to parts of the vast, icy continent, no one nation claims sovereignty over the vast, icy region.
The South Polar region is governed by the Antarctica Treaty which was signed in Washington in December 1959. Some 55 countries have formally approved of the measure. The treaty mandates that Antarctica shall be used for "peaceful purposes only," that no new territorial claims will be honored and that any scientific research gleaned on the island should be shared with all other nations.
Since constructing its first research station in Antarctica in 1985, known as "Great Wall," China has built at least four others: Zhongshan, Kunlun, Taishan and a base on Inexpressible Island in the Ross Sea area.
"Scientists maintain that Antarctica holds large reserves of natural resources. It is also strategically located for military and space operations," according to The China Story website, which identifies the country as the one with the biggest national investment on the continent.
The U.S. military, which has described China as its "pacing challenge" in the world, is keeping a close watch on Beijing's activities in Antarctica. The Pentagon announced last fall it was deploying an additional 420 National Guard airmen to Antarctica as part of its ongoing Operation Deep Freeze to support "climate research and other scientific activities."
Asked if China's stepped-up activity in the region was a source of concern, Pentagon spokesman Air Force Brigadier General Pat Ryder told reporters in October that the U.S. military was "very closely with Australia and New Zealand on a variety of exercises throughout the region."
"Certainly, we know that China has a presence in Antarctica," Gen. Ryder said. "We continue to see in certain areas, particularly in the Arctic, where China has claimed that it's an Arctic nation when it is not, that as much as [China] starts to compete for various resources in that area and to put defense capabilities in areas that are concerning, then that's something that we'll continue to keep an eye on."
Dual-use
But some worry about Beijing using its scientific bases in Antarctica for military purposes, such as helping the People's Liberation Army (PLA) enhance its satellite command and control features for use in a possible missile attack. According to a study by the Australian Strategic Policy Institute (ASPI,) China has installed ground satellite tracking stations at its Zhongshan and Kunlun polar research stations.
The Pentagon is concerned that China is increasing its presence in the Antarctic through benign-sounding scientific projects and investments in infrastructure, "likely intended to strengthen its position for future claims to natural resources and maritime access."
Defense Department officials said China's strategy in Antarctica includes the exploitation of "dual-use" technologies, facilities and research that have scientific purposes but could also improve the capabilities of the People's Liberation Army.
"Beijing's 2015 National Security Law identifies polar regions, along with deep sea and outer space, as areas for development and exploitation," the Pentagon said in a recent report to Congress.
Australia's role
About 30 countries operate dozens of research bases of varying sizes and capabilities on the barren, wind-swept continent.
Australia claims sovereignty over more than 40% of Antarctica, but only a handful of countries recognize Canberra's claims. The U.S. is among those countries that reject Australia's claims. Washington says it also has the right to stake a claim in Antarctica but so far has not taken the step.
According to the Australian Strategic Policy Institute, China's interests in Antarctica are based on its economic, political, military, and strategic interests there; resources such as access to Arctic and Antarctic minerals, fishing opportunities, and hydrocarbons; and science and technology resources.
In February 2022, former Australian Prime Minister Scott Morrison announced a $570 million plan to boost the country's presence in Antarctica. It would include charting unexplored sections of the continent's interior using drones and long-range helicopters.
While not identifying China by name, Mr. Morrison criticized countries that he said didn't have the best interests of Antarctica at heart.
"We are stewards of some of the most important and most sensitive environments anywhere in the world," he said, according to Voice of America. "We need to keep an eye on Antarctica because there are others who have different objectives."
Beijing quickly shot back, accusing Mr. Morrison of "whining" about a nonexistent threat from China. The government-run Chinese newspaper Global Times accused Mr. Morrison of serving as the "pawn" of the U.S. government's anti-China policies in recent years.
"Australian politicians know well that China's legitimate scientific expeditions in the Antarctic region are not challenging its national security by any means," the Global Times wrote. "Such false conjecture may provide material support for [their] anti-China agenda, but it is actually paranoia originating from their hostility toward China."
Mr. Stokes, the CNAS analyst, said China is currently engaged in legitimate scientific research in Antarctica, including efforts related to climate and environmental issues. But he agreed that some of Beijing's operations and assets in the region could be shifted over for military use if necessary.
Officials in China's Ministry of Transportation recently announced they were developing a new heavy icebreaker ship that could supplement at least two others currently operating in their fleet and being used for polar research projects.
"Those are state-owned icebreakers. They can definitely be leveraged in the future for military purposes," Mr. Stokes said.